Download the Glenkirk Church App! The Glenkirk Church app is available on any smartphone device and will allow our congregation to stay connected from anywhere! This app features sermon podcasts, sermon notes, digital Connection Card, online giving, a built-in events calendar, and more. Text "GLENKIRKAPP" to 833-245-5318 to download or go to GlenkirkChurch.org/app for more information.
SUNDAY SERVICES
9:00am | Indoor & Outdoor In Person, Live Online on YouTube and Facebook
10:45 am | Indoor & Outdoor In Person, Live Online on YouTube and Facebook
We will be worshiping inside the Sanctuary at 9:00am and 10:45am, as well as outside with a live broadcast on the patio with our LED screen. Services are also available through live stream online at YouTube.com/GlenkirkChurch.
Succulent Swirl Pot Women's Event | April 4, 2023 | Tuesday | 6:30PM | Fellowship Hall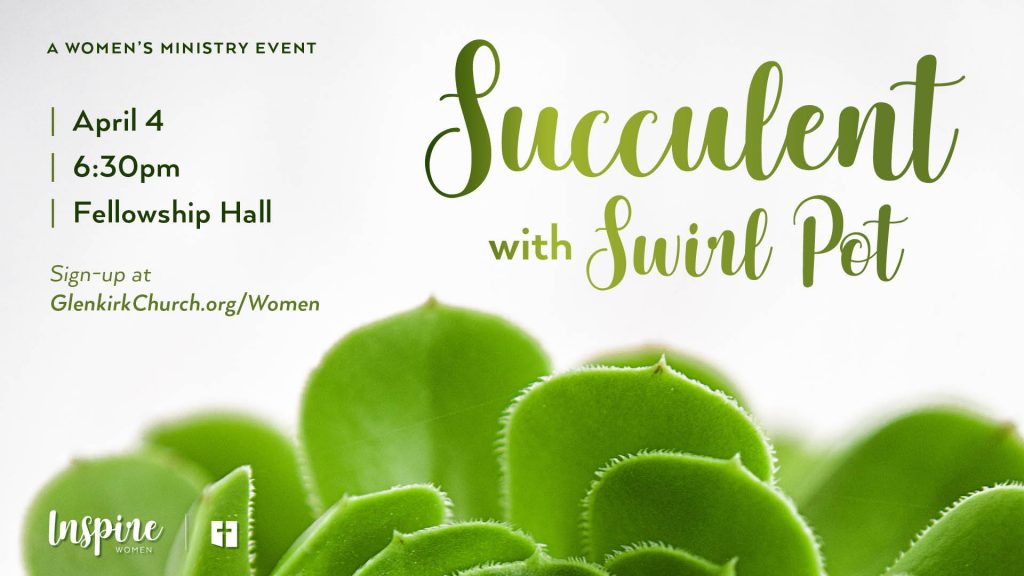 Join us as we learn how to make a succulent swirl pot.

Oxygen for Life: A Retirement Reformation Weekend | April 28 & 29, 2023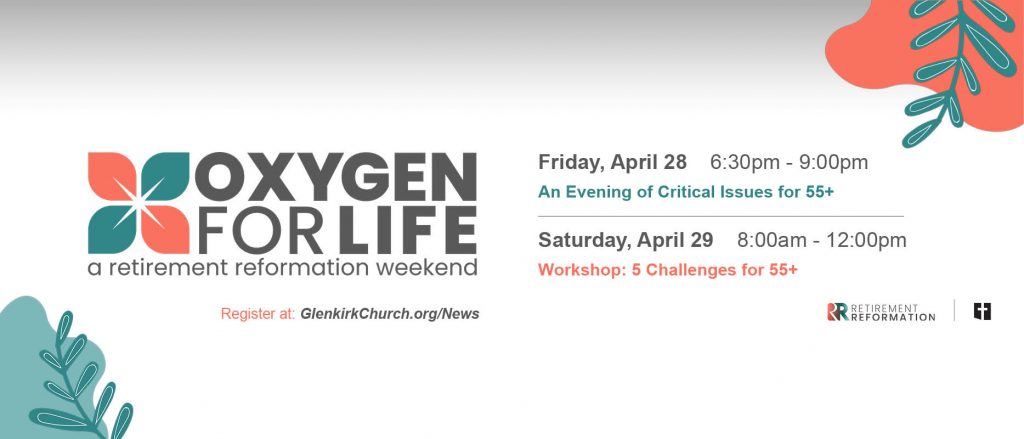 Glenkirk Church cares about our older adults and is hosting a workshop for anyone 55 and older on Friday April 28th (from 6:30-9 pm) and Saturday April 29th(from 8am – 12 pm.) The workshop will discuss solutions to potential challenges, overcoming loneliness, building new relationships, and so much more. This is a don't-miss event for anyone 55 or older. Save the date(s) and tell friend!

BELONG Class | April 23 & April 30, 2023 | Sundays | 2:00PM – 4:30PM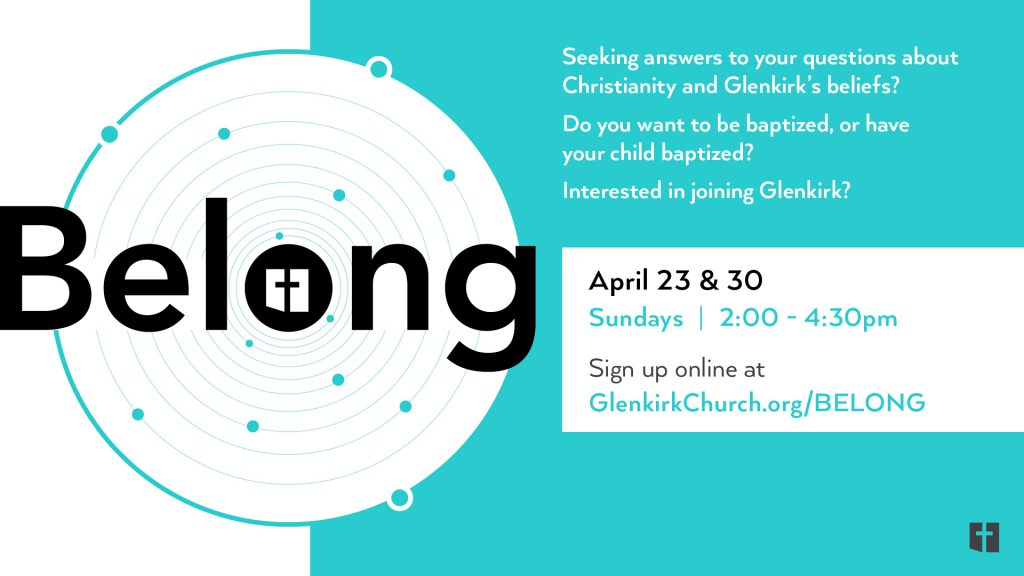 Interested in becoming a part of the Glenkirk Family? We invite you to come to our introductory class, led by Pastor Tim, to learn about the vision and values of Glenkirk.

Glenkirk Moms | Every Other Friday at 9:30AM & Every 2nd Thursday at 6:30PM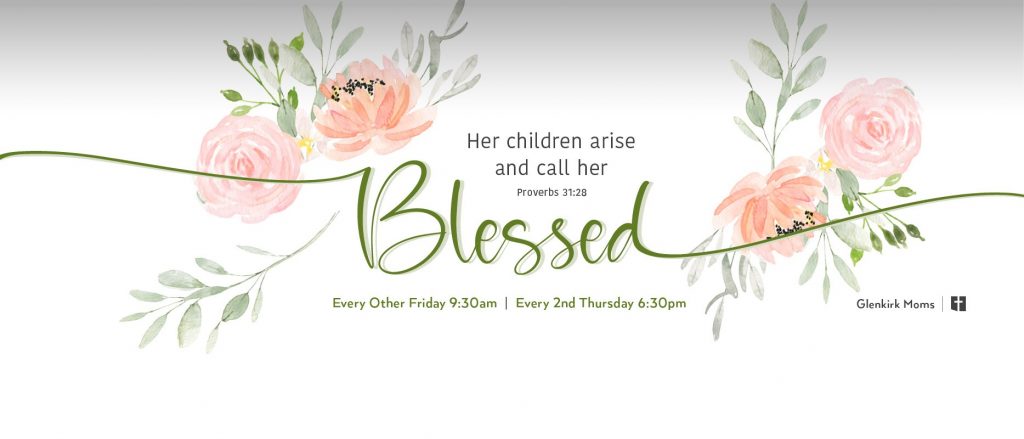 Moms group is a great place for moms to find a place of comfort, support, guidance, and inspiration. We explore thoughtful and practical topics related to motherhood. We meet every other Friday from 9:30-11:30AM and every 2nd Thursday at 6:30PM
Doing Life with your Adult Children Workshop | Mondays | February 6 – March 27 | Event Center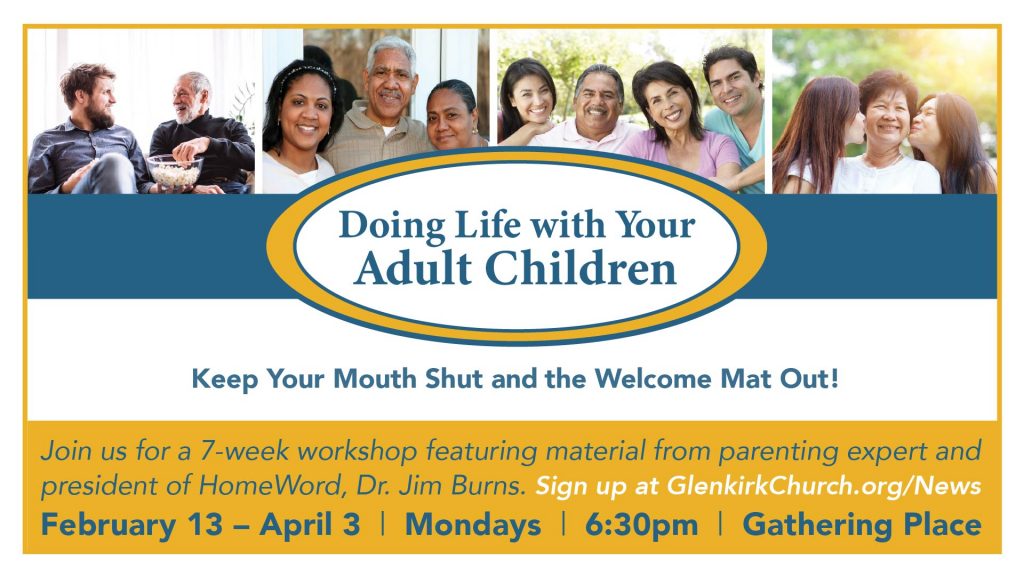 Join us on Monday nights as we go through parenting expert Jim Burns' video & book series designed to help you navigate the toughest and the most rewarding parts of parenting your grown kids. Jim Burns will be joining us in person on February 6th to launch our study!

GIVING
In order to make giving easier than ever, we are moving to a new online giving platform call Pushpay. The new system is fully integrated with our CCB system and is even more safe and secure. Text the word GLENKIRK to 833-245-5318 to get started.
Adult Small Groups
Interested in joining a small group? Small groups provide an opportunity to grow in your knowledge of God's word and experience authentic community. Our small groups span all ages and phases of life.

PRAYER
Even though some of us are still physically apart during this time, we want to stay connected! We want to pray for you. Just let us know how. You can submit prayer requests and schedule a phone call or video chat with a pastor or deacon to pray with you. Also consider signing up for a time slot for our prayer chain. You can sign up for a slot at www.glenkirkchurch.org/pray and we will send out prayer prompts for you to use.
To contact our prayer team or submit a prayer request, CLICK HERE or send an email to Pray@GlenkirkChurch.org.

Recent Sermons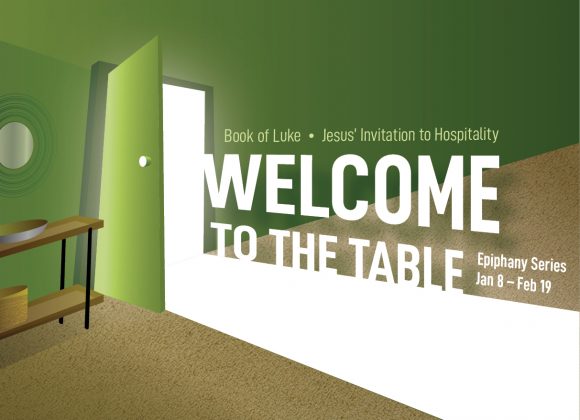 January 22, 2023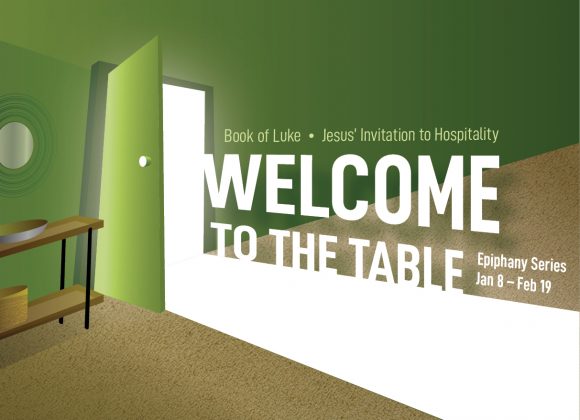 January 15, 2023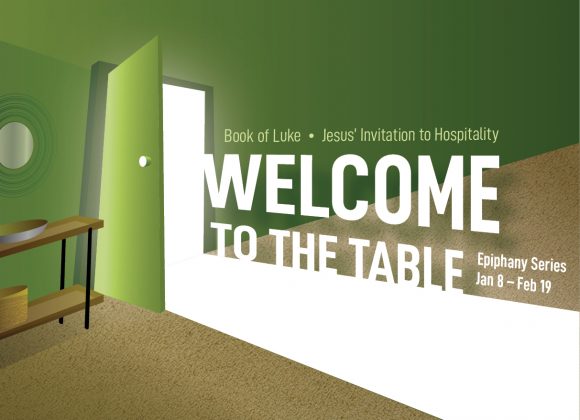 January 8, 2023
Recent Devotions