Update on Worship at Glenkirk Church
Glenkirk Family,
Now that we are more than a week into LA County's "Safer at Home Order for Control of COVID-19," I want to let you know that Glenkirk's pastors, elders, deacons, and staff are praying for you and seeking to support you during this public health crisis.
PRAYER
Please let us know how we can pray for you by emailing us your prayer requests to info@glenkirkchurch.org. We want to pray for you. Just let us know how. Also consider signing up for a time slot for our prayer chain. You can sign up for a slot at www.glenkirkchurch.org/pray and we will send out prayer prompts for you to use.
WORSHIP
Since the LA County order is currently in force until April 19, 2020, all events on the Glenkirk Church campus will be postponed or live streamed until this order is lifted. We are committed to be being part of the solution to this public health crisis and doing our part to slow the spread of this virus. We are not doing this out of fear, but out of love for our community, especially those who are most vulnerable. However, that does not mean we can't stay connected. Even though we will not be meeting on the Glenkirk Church campus, we invite you to join us in worship via livestream for the next four weeks at 9 AM and 10:45 AM. You can find the link to the livestream at www.glenkirkchurch.org/sermons. Last Sunday over 900 devices logged on to our worship services. We will also livestream our Maundy Thursday service at 7 PM on April 9. We are also working on an online version of Journey to the Cross.
MINISTRY
Our leaders are creatively innovating to keep Glenkirk's ministry moving forward. Our children's ministry and student ministry are creating online content that is accessible below. We are doing pastoral prayer and visitation via phone, as well as lay counseling. God is leading us in finding new and creative ways to live out Glenkirk's mission during this unusual season.
CONNECT
We will continue to communicate with you about how to stay connected to Glenkirk and ways you can minister during this time. You can continue supporting the ministry of Glenkirk and its ministry partners by utilizing our online giving option on the Glenkirk Church website. I will continue creating and releasing short pastoral videos to help you navigate this season. You can watch my video message, recent sermons, access our live streams at www.YouTube.com/glenkirkchurch as well as on the Glenkirk Church Facebook page and Instagram account.
Additionally, we have made our connection card available online! Here you can tell us about your experience and submit prayer requests and questions to our team.

We will also close our offices for now, though our staff is still working and will respond to emails and phone messages as they are able. We are investigating other ways of delivering our midweek ministry via online options.
We want to spiritually care for you during this time. Our God is not surprised by this public health crisis. He is with us and promises to carry us through it. Further, God invites us to lift up our eyes to look at those around us, especially the most vulnerable in our community. Please check in with each other via email, phone call and text. If you have a need, please email us at info@glenkirkchurch.org.
We look forward to when we can meet together in person. What a celebration that will be! In the meantime, let's stay connected in these ways to embody our mission together: to be a worshipping community, inviting everyone to join in the journey of becoming fully devoted followers of Jesus, loving God and his world.
"And I pray that you, being rooted and established in love, may have power, together with all the Lord's holy people, to grasp how wide and long and high and deep is the love of Christ, and to know this love that surpasses knowledge—that you may be filled to the measure of all the fullness of God. Now to him who is able to do immeasurably more than all we ask or imagine, according to his power that is at work within us, to him be glory in the church and in Christ Jesus throughout all generations, for ever and ever! Amen" (Ephesians 3:18-21 NIV)
Pastor Tim Peck
OUTREACH & WAYS TO HELP
Shepherd's Pantry informed me this week that many of you have stepped up as new volunteers to help with their ministry. Thank you! They are still in need of volunteers and food donations. We are also working to coordinate with Sowing Seeds food bank in La Verne as well.
We have the opportunity to partner with local hospitals to provide face masks for doctors and nurses! If you have sewing supplies at home, we encourage you to join in on this outreach. CLICK HERE for more details, videos tutorials, and templates for making and donating face masks.
For those with students in the Glendora Unified School District, starting today the district will be offering "Grab-n-Go" meals to GUSD students at no cost for the duration of the closure. These include a cold breakfast or lunch. You can find more information at https://www.glendora.k12.ca.us.
If you have practical needs we can meet during this time, we are mobilizing our deacon ministry to this end. If you are need of assistance, please contact your deacon using your Glenkirk Church profile on Church Community Builder (CCB) or you can email us at info@glenkirkchurch.org. Also, if you have specific prayer requests, you can submit them to this email address, and we will get them to our prayer team. We want to support you during this time in every way we can.


Our sermons are now available LIVE on YouTube, Sundays at 9:00am and 10:45am!
CLICK HERE to watch our live stream.


Children's Ministries
Assistant Director of Children's Ministries, Amber McMahon, has put together various resources and at-home activities that can be done with your child and/or together as a family! We encourage you all to utilize these, as it will not only keep a sense of normalcy for Sunday mornings; but it will also be a great way for your child to learn faith cues from you! If you are not currently receiving emails from our Children's Ministry Department, please email amcmahon@glenkirkchurch.org to be added!
Sunday school will not meet in person for the next 2 weeks.
Club 8 and Homebuilders will not meet in person or the next 2 weeks.
AWANA Programs will not meet in person for the next 2 weeks.
Student Ministries
ENGAGE students will be meeting virtually for the coming weeks! Join us Sunday and Wednesday via Instagram LIVE (@GlenkirkStudents) and on our YouTube channel. You may also follow us on Twitter (@GKStudentMin) to participate in our weekly question! For questions about Student Ministries, please email kfancher@glenkirkchurch.org
We are using a daily devotional for students that will also be part of our discussion during our live stream:

Other Ministry Updates
We want to stay connected during this time! To do so, many of our ministries have moved to online meetings! Zoom enables small groups, bible studies and more to connect through video chat. If you don't have a webcam, you can still join with your speakers/mic only.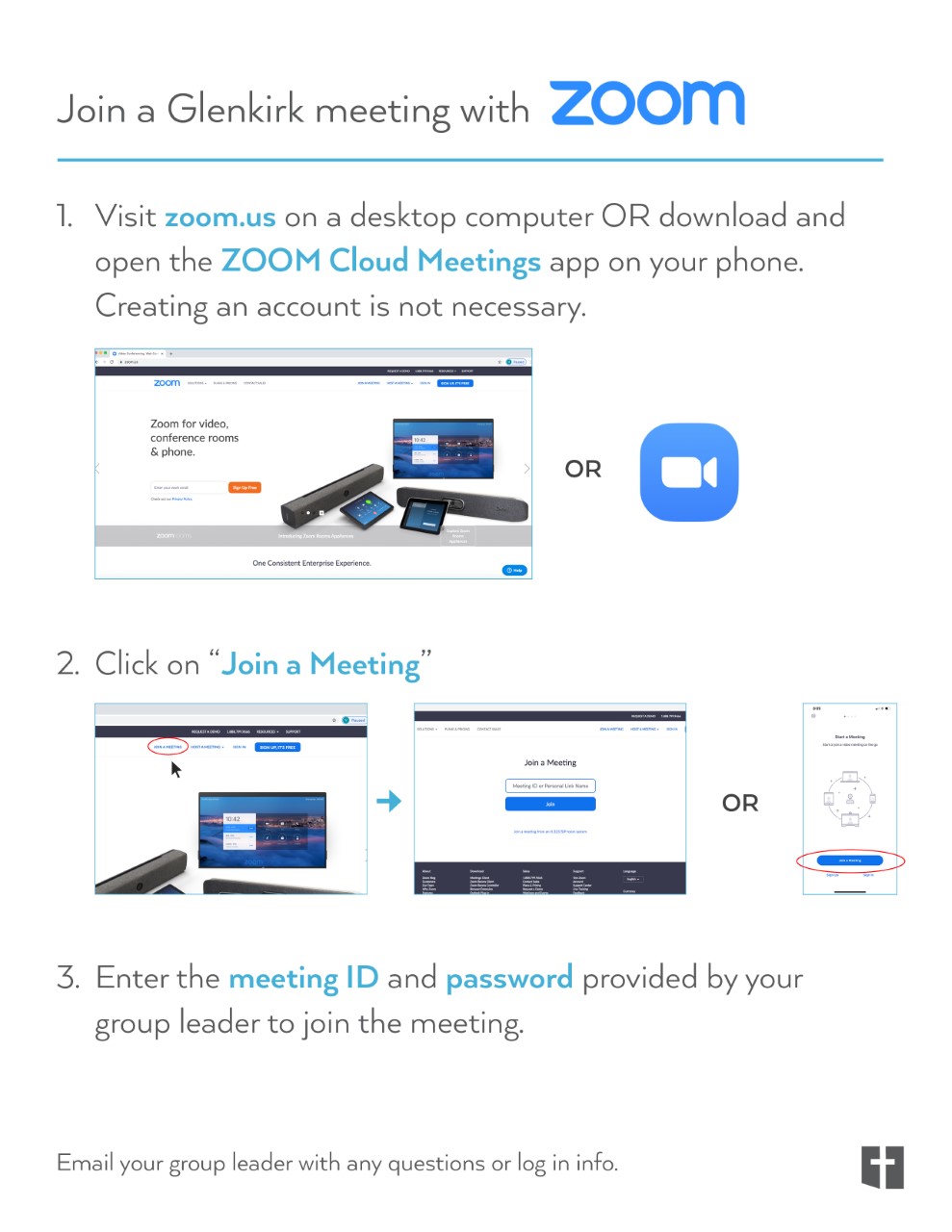 Recent Sermons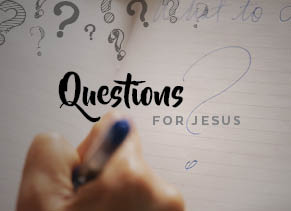 February 16, 2020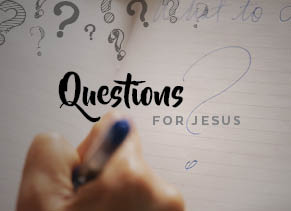 February 9, 2020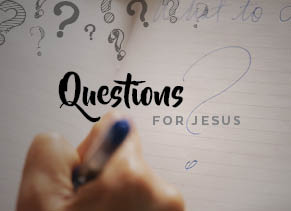 February 2, 2020
Recent Devotions