Women's Ministry at Glenkirk provides many opportunities for women to grow in friendships and faith.
Please use the tabs above to browse information about our various ministries for women!
Summer Book Study | Wednesdays | 9:30 AM & 6:30 PM | Begins June 8
How can we hear from God in everyday life? How do we tell His voice apart from our own? Join us as we go through these and more questions in a video and book study by Priscilla Shirer on Discerning the Voice of God. Childcare will be provided for the morning study only.
Sign up HERE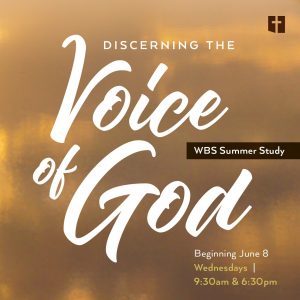 ---
CONTACTS
Jenn DeGraw, Guest Relations & Pastoral Administration
CLICK HERE to email Jenn
---
The Kingdom of God: Extended Edition | Wednesdays at 9:30am | Resumes Fall 2022
WBS is a program for women of all ages to connect with others for support, prayer, growth in Jesus, and a time of worship! Join us Wednesday mornings as we go through a study by Max Lucado on the book of Matthew! We will be looking deeply into this book that bridges the Old and New Testaments by showing how Jesus is the fulfillment of prophecy and God's promised King. Through this study, we hope to become better disciples as we examine together this tax collector, who left everything to follow Christ and spent his life teaching others about the King and the long-awaited Messiah. If you have any questions or want more information contact Caitlyn at cschan@GlenkirkChurch.org
Suggested donation is $50 for the year.
Please use this link to register for the 2021-2022 season:
---
WBS SERMONS 2019-2020
You can also listen to WBS sermons online!

---
CONTACTS
Jenn DeGraw, Guest Relations & Pastoral Administration
CLICK HERE to email Jenn
iMoms | Resumes Fall 2022
iMoms is a great place for mothers of young children to find a place of comfort, support, guidance, and inspiration. We will explore thoughtful and practical topics related to motherhood. iMoms will gather bi-weekly Fridays from 9:00am-11:00am.
CONTACTS
Jenn DeGraw, Guest Relations & Pastoral Administration
CLICK HERE to email Jenn