PREVIOUS EVENTS:
Men's Spring BBQ  |  May 21, 2023  |  Sunday  |  5:00pm – 7:30pm     
Come hungry and ready to connect with other brothers in Christ. Our BBQ will be a fun and entertaining time of encouraging one another in our journey with God.

The Game Plan | February 5, 2023 | 5:00pm-7:30pm
Join us as we enjoy a meal together, worship with other churches, and hear from Coba Canales, Dean of Spiritual Life at Azusa Pacific University.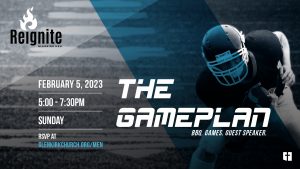 Men's Fall BBQ: The Great Glenkirk Smokeout | October 30, 2022 | 5:00pm
Come hungry for food and fellowship! Men, you're invited to join us for this event focused on community and good food. See you there!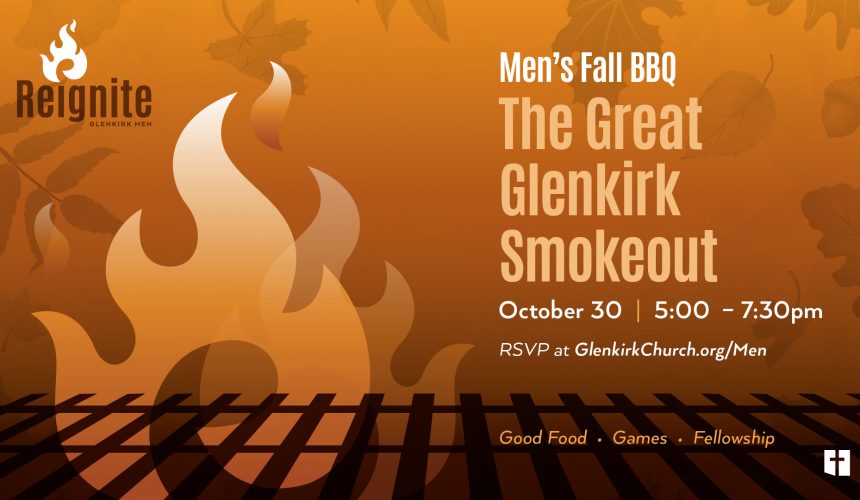 Call to Action | April 30, 2022 | 5:00 – 7:00pm
Reignite has invited Tom Ivy (former director of Dr. Billy Graham's television specials) and other special guests to share their testimonies of how God used them when they decided to respond to God's call to action in their life. We will be looking at what ways the Lord might be calling us to action within Glenkirk.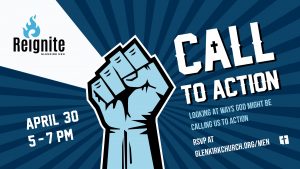 The Gameplan | February 5, 2022
In our kickoff event of the year, we discussed God's game plan for our lives. Former Assistant Head Coach of the Seattle Seahawks Rocky Seto brought a message of God's strategy for our lives.
JOIN A MEN'S SMALL GROUP
Small groups meet virtually on various days and times of the week. Choose a small group that fits your schedule.
Bible Study | Leader: Steve Sharp | Every Wednesday @ 7:00 PM
Bible Study | Leader: John Wiedmann | Every Wednesday @ 6:00 AM
Bible Study | Leader:  Paul Bublin | Every Thursday @ 6:00 AM
Bible Study | Leader:  Bill Matthews | Every Wednesday @ 6:30 AM
Bible/Book Study | Leader: Bill Matthews | Every Saturday @ 6:30 AM
Unsure which group is a good fit for you?
For more information on which small group might best fit with your circumstances, CLICK HERE to contact us.
CONTACTS
Jenn Damiani— Director of Guest Relations & Support
CLICK HERE to email Jenn
---