Update on Worship at Glenkirk Church
Glenkirk Family,
Now that we are well into LA County's "Safer at Home Order for Control of COVID-19," I want to let you know that Glenkirk's pastors, elders, deacons, and staff are praying for you and seeking to support you during this public health crisis. Our deacons are reaching out by phone and email to connect personally with you to see what you need. We also continue to release short videos to provide pastoral encouragement and guidance during this crisis. You can watch these video messages, recent sermons, access our live streams at www.YouTube.com/glenkirkchurch as well as on the Glenkirk Church Facebook page and Instagram account.

Food Drive | June 6 | 10:00am – 12:00pm
Our local food pantries need our help to keep their shelves stocked during this time! Glenkirk will host a food drive in partnership with Shepherd's Pantry on Saturday, June 6th! Fill a bag (or two) with non-perishable items and drop off at Glenkirk between 10am-12pm.
If you are unable to drop off, please email info@glenkirkchurch.org to arrange a pick up from your home!
More info and a full list of non-perishable items online at GlenkirkChurch.org/fooddrive

WORSHIP
We will continue to worship via livestream each Sunday at 9 and 10:45 AM, and we hope you will join us at glenkirkchurch.org/sermons. Our ENGAGE student ministry will also continue live streaming via Instagram live and it's YouTube channel on Wednesday nights and Sunday mornings (more info below). We are committed to be being part of the solution to this public health crisis and doing our part to slow the spread of this virus. We are not doing this out of fear, but out of love for our community, especially those who are most vulnerable. However, that does not mean we can't stay connected.
GIVING
One of our covenant partners approached me with the idea of giving his government stimulus check to Glenkirk, so it could be redistributed to someone else who has a greater economic need. This person's generosity reminded me of the early church, where people gave special gifts to the church to distribute to those who had need (Acts 2:45). If you wish to give all or a portion of your stimulus check in order to help others in our community who may have a greater need, you can direct that gift to Glenkirk's Deacon fund. Everything given to this fund will be used to help others struggling financially. Thank you also for your consistent tithes and offerings during this time. Many churches are struggling financially during this time, and we have seen a slight drop in giving to our general fund giving over the last month. You can give online to our General Fund and our Deacon fund at glenkirkchurch.org/give or you can mail your tithe to 1700 Palopinto Ave., Glendora, CA 91741. A few people have asked about dropping off their giving at the church. We do have a drop box at the entrance to the church offices on Seller's Street that you can use to drop off your giving check if you don't use online banking or give online.
CONNECT
We have made our connection card available online! Here you can tell us about your experience and submit prayer requests and questions to our team.


We look forward to when we can meet together in person. What a celebration that will be! In the meantime, let's stay connected in these ways to embody our mission together: to be a worshipping community, inviting everyone to join in the journey of becoming fully devoted followers of Jesus, loving God and his world.
Thank you for your faithful giving over these last three weeks we have been apart. We are seeking to steward these resources well, and you can continue to give online at glenkirkchurch.org/give. Just last month we were able to provide groceries for 17 international students who are stranded at their university without consistent food services. One of our members dropped off care packages to a dozen of our older members. Others have baked cookies and delivered to local seniors. We continue to support all our mission partners, both internationally and local.
Adult Small Groups
Interested in joining a small group? Small groups provide an opportunity to grow in your knowledge of God's word and experience authentic community. Our small groups span all ages and phases of life. We will be meeting virtually via zoom until further notice.

GOD'S PROMISES
God is with us during this season, as he has been with God's people during difficult times in the past. He is inviting us to new ways of trusting him, innovative ways of loving him (like worshipping via livestream), and creative ways of serving him. We may feel caught off guard, but I can't help but believe that God has been preparing us for this season for a long time. So let's cling to the promise that, "being confident of this, that he who began a good work in you will carry it on to completion until the day of Christ Jesus" (Philippians 1:6).
PRAYER
Even though we are physically apart during this time, we want to stay connected! We want to pray for you. Just let us know how. You can submit prayer requests and schedule a phone call or video chat with a pastor or deacon to pray with you. Also consider signing up for a time slot for our prayer chain. You can sign up for a slot at www.glenkirkchurch.org/pray and we will send out prayer prompts for you to use.

OUTREACH & WAYS TO HELP
I am so encouraged by the creative ways Glenkirk members have been reaching out to our community. Our members continue to sew face masks for our local hospital and at-risk members in our community.
We have the opportunity to partner with local hospitals to provide face masks for doctors and nurses! If you have sewing supplies at home, we encourage you to join in on this outreach. CLICK HERE for more details, videos tutorials, and templates for making and donating face masks.
If you have practical needs we can meet during this time, we are mobilizing our deacon ministry to this end. If you are need of assistance, please contact your deacon using your Glenkirk Church profile on Church Community Builder (CCB) or you can email us at info@glenkirkchurch.org. Also, if you have specific prayer requests, you can submit them to this email address, and we will get them to our prayer team. We want to support you during this time in every way we can.

BLOOD DRIVES
Local blood drives are happening throughout Glendora! If you are able to give blood, please consider joining our neighbors from Glendora United Methodist Church as they host blood drives on Sunday, June 7th (9:00am-3:00pm) and Wednesday, July 1st (9:00am-3:00pm). Please schedule an appointment online at www.redcrossblood.org and enter their sponsor code: glendoraUMC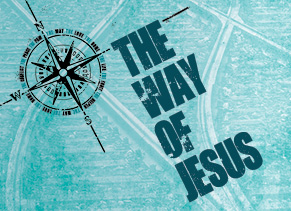 Current Sermon Series "The Way of Jesus" | Now – July 26
The night before his death, Jesus shared a meal with his closest followers to prepare them for what lay ahead. During this meal, Jesus gave a farewell message in John chapters 14 to 16. This farewell teaching of Jesus is filled with some of the most profound and important truths about following the way of Jesus. Watch the LIVE STREAM or catch up on past sermons online at GlenkirkChurch.org/sermonsSundays at 9:00am and 10:45am |
YouTube.com/Glenkirkchurch
Our sermons are now available LIVE on YouTube, Sundays at 9:00am and 10:45am!
CLICK HERE to watch our live stream.

Other Ministry Updates
We want to stay connected during this time! To do so, many of our ministries have moved to online meetings! Zoom enables small groups, bible studies and more to connect through video chat. If you don't have a webcam, you can still join with your speakers/mic only.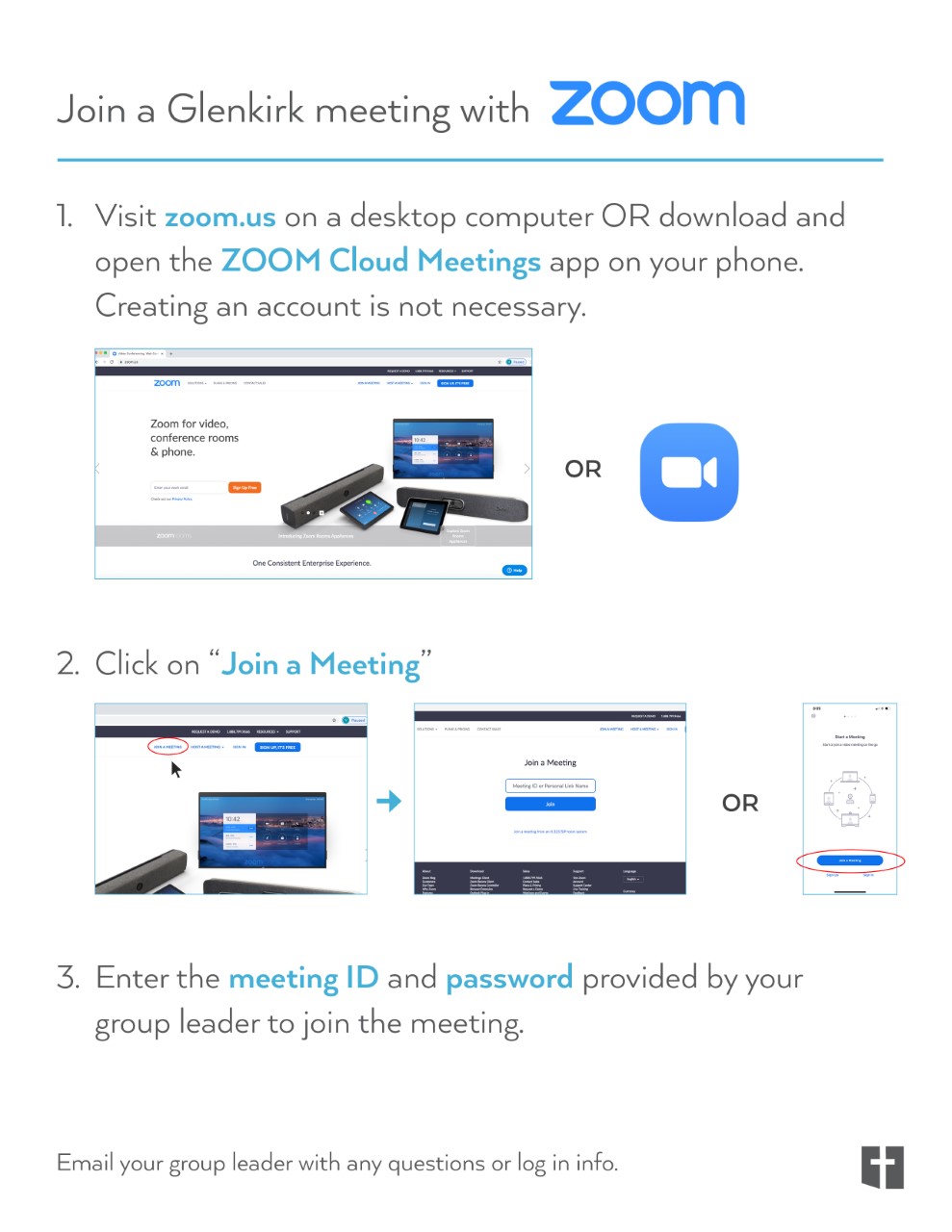 Recent Sermons
August 27, 2018
August 27, 2018
Recent Devotions
Online Resources for Sunday School
Assistant Director of Children's Ministries, Amber McMahon, has put together various resources and at-home activities that can be done with your child and/or together as a family! We encourage you all to utilize these, as it will not only keep a sense of normalcy for Sunday mornings; but it will also be a great way for your child to learn faith cues from you! If you are not currently receiving emails from our Children's Ministry Department, please email amcmahon@glenkirkchurch.org to be added!
Sunday school will not meet in person until further notice.
Club 8 and Homebuilders will not meet in person until further notice.
AWANA Programs will not meet in person until further notice.
KidMin Online (Elementary)
Glenkirk KidMin will be online only throughout the stay at home order. We have put together many resources for you to use at home! If you have any questions with any of this, please email Amber McMahon!
Step 1: Go to digitalpass.lifeway.com
Step 2: Click on "Get Started!" to create a free account. (This must be an email that you can easily access, as they will be sending a verification code to verify your account!)
Step 3: Once your account has been created, go back to digitalpass.lifeway.com
Step 4: Click on "Login" rather than "Redeem Your Digital Pass" as this is a much easier route. It will prompt you to enter your login details, and then it should bring you to the main page. (Which looks like the image below)
Step 5: Click on the light blue icon that says "LifeWay Kids at home" (It looks like the image below)
Step 6: This will then take you to your main "Dashboard" which houses all of your curriculum resources, videos, and activities. (This looks like the images below)
Step 7: You're in! There are instructions on how to use what they have, and which videos to watch as well. The main video is the second one from the left on both rows, so this one will go over the lesson and other components of it in the best way possible.
KidMin Online (Early Childhood)
If last Sunday's story on the Prodigal Son is one of the well-loved stories in the Bible, this Sunday's lesson is on the greatest love story ever told and it's found in John 3:16 – "For God so loved the world that He gave His one and only Son that whoever believes in Him shall not perish but have eternal life". Our story lady, Ms. Sharon Matrosimone has a video on it which we have included in this week's Parent letter. I hope you will find time to watch it with your children.
---
Story & Worship Experience
---
If you missed watching last Sunday's story video, here it is:
---
CLICK HERE for John 3:16 Coloring Page 1
CLICK HERE for John 3:16 Page #2
CLICK HERE to sing along to John 3:16 by The Rizers
---
THE GOSPEL IN A NUTSHELL
John 3:16 is actually the gospel in a nutshell. Ms. Sharon, our story lady, helps explain it at the level of our Pre-schoolers.
---
VERSE of the WEEK: 1 John 4:7
"Dear friends, let us love one another, for love comes from God. Everyone who loves has been born of God and knows God."
We hope you found time this week to send cards to the Seniors in Mesa Glen and Silverado. This will be our ongoing service project for the month of May. So keep sending those cards and bring a little sunshine into their lives. What an opportune time to teach our children a lesson in serving and loving! If you missed noting down the addresses, I am including them below.
1.The Residents
Mesa Glen Care Center
c/o Tom Matic III
638 E. Colorado Ave.
Glendora, CA 91740
2. The Residents
Silverado Beverly Place
c/o Maggie Dawson
330 N. Hayworth Ave.
Los Angeles, CA 90048
Feel free to email me at dmatic@glenkirkchurch.org or delfamatic626@gmail.com if you have any questions or suggestions.
Have a blessed week!

Student Ministries
ENGAGE students will be meeting virtually for the coming weeks! Join us Sunday and Wednesday via Instagram LIVE (@GlenkirkStudents) and on our YouTube channel. You may also follow us on Twitter (@GKStudentMin) to participate in our weekly question! For questions about Student Ministries, please email kfancher@glenkirkchurch.org
We are using a daily devotional for students that will also be part of our discussion during our live stream: