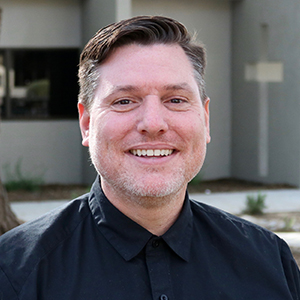 As the Director of Worship Arts at Glenkirk Church, Eric Shouse oversees the Worship Arts and Tech Departments. Along with leading worship services at Glenkirk each week, Eric heads a team of creative people who work with lighting, stage design, video production, service/event planning, and music selection.
Eric started in music at the age of 7. Growing up as the son of a pastor, Eric's parents encouraged his creativity and gave him numerous opportunities to perform in front of people. Playing music became a large part of his creative expression. In high school, Eric began to write songs which led to graduating with a degree in Music Theory & Composition from Azusa Pacific University.
While in college, Eric became a founding member of the band, Pushstart Wagon, where he spent several years recording and performing around the country. He has had songs placed in television shows on MTV as well as others. Eric's Song 'Sweet Hope Divine' was featured on the 2009 Saddleback Worship Conference album, and song that he wrote was turned into a children's book and CD titled, 'The Good Shepherd'.
Eric recently co-produced and sang on a Christmas album called 'Glory and Peace' with Glenkirk's resident arranger Moses Sun based on music created for Christmas Eve Candlelight Services at Glenkirk. And he just recorded a song that has been used at Glenkirk KidMin for years, Superhero, under the group name 'Kids Shine'.
Along with writing and arranging music and producing videos for various projects at Glenkirk, Eric is also performing with his band Closer By One and writing songs for a number of projects including worship songs, children's songs/books, and film/television.